Welcome to Avro Phonetic for Linux
ibus-avro is the port of the popular Avro Phonetic Bangla typing method to Linux. This software works as an Engine (plugin) of IBus and lets users type in English and on-the-fly transliterate them phonetically to Bangla.
Notable features:
100% compatibility with the current Avro Phonetic scheme.
Support for preview window to see originally typed text right under the cursor.
Dictionary support can predict and suggest phonetically similar words with the correct spelling on the fly.
Autocorrect support brings commonly used English words to Bangla (like Facebook, download, etc.) even with their original English spelling.
Customizable.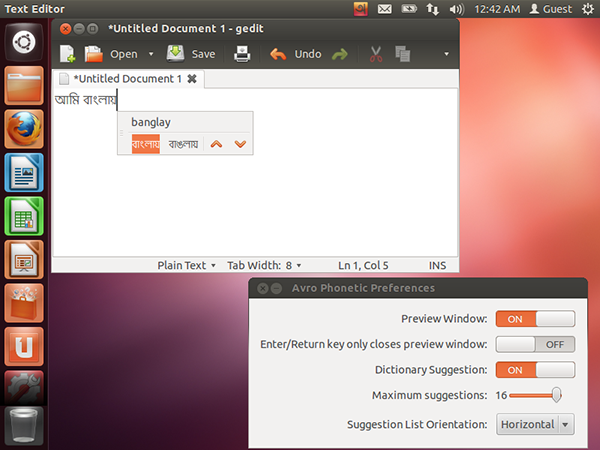 Project status
Stable. Current version: 1.2
See version history.
Download and installation
Debian/Ubuntu
Official repositories of the following Linux distributions contain ibus-avro
Ubuntu 16.04 LTS (Xenial Xerus) [backports]
Ubuntu 18.04 LTS (Bionic Beaver) [backports]
Ubuntu 20.04 LTS (Focal Fossa)
Ubuntu 20.10 (Groovy Gorilla)
Ubuntu 21.04 (Hirsute Hippo)
Debian 11 (Bullseye)
Debian Unstable (Sid)
For these distributions, you can simply install ibus-avro from software center (or an equvalent tool). For example to install it from the command line using apt:
sudo 

apt-get 

install 

ibus-avro

For an older version of ubuntu or debian (and other debian based distributions, ex: Raspbian) you can add debian sid repository with a lower pin-priority to apt, and install ibus-avro from there. Only attempt this if you're an advanced user with detailed knowledge of apt pinning.
Arch and derivatives
AUR contains a community maintained package named ibus-avro-git. You can install it using your preferred tool. For example to install using yay:
Others
For use on other distributions, you'll need to download the source code from github repository. Please follow the readme file for detailed instructions.
Usage
After installing you have to restart ibus, if you're unsure how to do that, restart your session (logout/login) or restart your computer. Now you can add Avro Phonetic to Input Methods using your distribution's setting gui. For Ubuntu: Setting -> Region & Language -> Input Sources.
Bangla typing guide
Here is the Bangla tutorial (from the Windows edition) on how to type with Avro Phonetic: Bangla typing with Avro Phonetic.
License
ibus-avro is licensed under Mozilla Public License 1.1 ("MPL"), an open-source/free software license.