Welcome to Avro Phonetic for Linux
ibus-avro is the port of popular Avro Phonetic Bangla typing method to Linux. This software works as an Engine (plugin) of IBus and let users type in English and on-the-fly transliterate them phonetically to Bangla.
Notable features:
100% compatibility with the current Avro Phonetic scheme.
Support for preview window to see originally typed text right under the cursor.
Dictionary support can predict and suggest phonetically similar words with correct spelling on the fly.
Autocorrect support brings commonly used English words to Bangla (like, Facebook, download etc.) even with their original English spelling.
Customizable.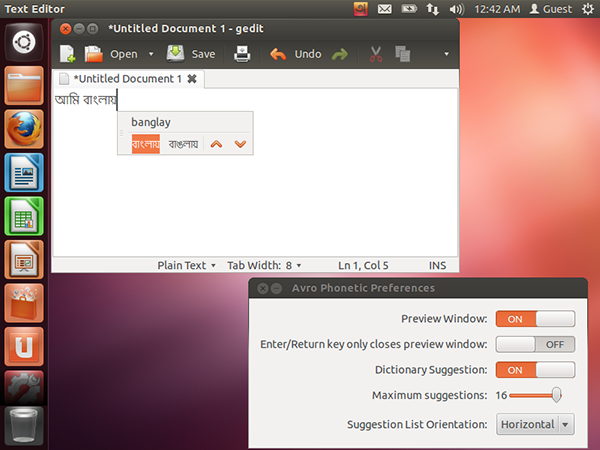 Project status
Stable. Current version is 1.0. See version history.
Download and installation
ibus-avro currently provides binary packages for the following Linux distributions: (click on the links for detail instructions on installation and usage)
Note: ibus-avro will not work below Ubuntu 12.04, Fedora 17 due to some dependencies. We'll move to openSUSE 12.2 as soon as it is released with the updated dependencies and 12.1 may not remain officially supported after that.
For using on other distributions, you'll need to download the source code from github repository. Please follow the readme file for detail instructions.
Bangla typing guide
Here is the Bangla tutorial (from the Windows edition) on how to type with Avro Phonetic: Bangla typing with Avro Phonetic.
License
ibus-avro is licensed under Mozilla Public License 1.1 ("MPL"), an open source/free software license.